Updated Policy regarding the use of PPE
Over the weekend there have been some changes to the recommended use of PPE in the UK's effort to prevent the spread of COVID-19, otherwise known as Coronavirus. Public Health England (PHE) has worked with NHS England and NHS Improvement, and the Devolved Administrations to review the UK's infection prevention and control recommendations.
This guidance is issued jointly by the Department of Health and Social Care (DHSC), Public Health Wales (PHW), Public Health Agency (PHA) Northern Ireland, Health Protection Scotland (HPS), Public Health England and NHS England as official guidance. The Health and Safety Executive have also reviewed the PPE guidance and have agreed the appropriate sessional use of PPE.
3 new tables have been added to clearly explain the PPE required for different common scenarios – one for hospitals, one for primary care, outpatient and community care and one for ambulance and first responders. There is a further table for 'Additional Considerations'. The vast majority of this guidance is directed to acute hospital setting and those performing clinical procedures. For Way Ahead Care we are concerned with the information on Table 2. These tables can be found here:
https://www.gov.uk/government/publications/wuhan-novel-coronavirus-infection-prevention-and-control?utm_campaign=11455821_Revised%20PPE%202%204%2020&utm_medium=email&utm_source=UKHCA&dm_i=1DVI,6TJD9,DWJLT5,RBESZ,1
Our current policy is that we will instruct staff to wear a mask and eye protection when visiting a service user that has been instructed to self-isolate – symptomatic or not. The service user will also be provided a mask to wear while the member of staff is visiting. There is no requirement to change this way of working.
This new guidance now requires us to wear a mask, in addition to the regular PPE requirements, during visits to those service users that are considered 'extremely vulnerable'. Service users that fall within the following list:
Solid organ transplant recipients.
People with specific cancers:

people with cancer who are undergoing active chemotherapy
people with lung cancer who are undergoing radical radiotherapy
people with cancers of the blood or bone marrow such as leukaemia, lymphoma or myeloma who are at any stage of treatment
people having immunotherapy or other continuing antibody treatments for cancer
people having other targeted cancer treatments which can affect the immune system, such as protein kinase inhibitors or PARP inhibitors
people who have had bone marrow or stem cell transplants in the last 6 months, or who are still taking immunosuppression drugs

People with severe respiratory conditions including all cystic fibrosis, severe asthma and severe COPD.
People with rare diseases and inborn errors of metabolism that significantly increase the risk of infections (such as SCID, homozygous sickle cell).
People on immunosuppression therapies sufficient to significantly increase risk of infection.
Women who are pregnant with significant heart disease, congenital or acquired.
Will will be working quickly to establish those services users that we are caring for that fall within this defined list and issue the appropriate PPE.
The guidance does also recommend that we conduct a further Risk Assessments to  ascertain if the service user meets the 'case definition' before care is delivered. An Initial risk assessment where possible will take place by phone, prior to entering the premises or at 2 metres social distance on entering. Where the health or social care worker assesses that an individual is symptomatic and meets the case definition, appropriate PPE will be put in prior to providing care.
Where the potential risk to health and social care workers cannot be established prior to face-to-face assessment or delivery of care (within 2 metres), our staff will wear aprons, masks, eye protection and gloves until the 'case definition' can be confirmed.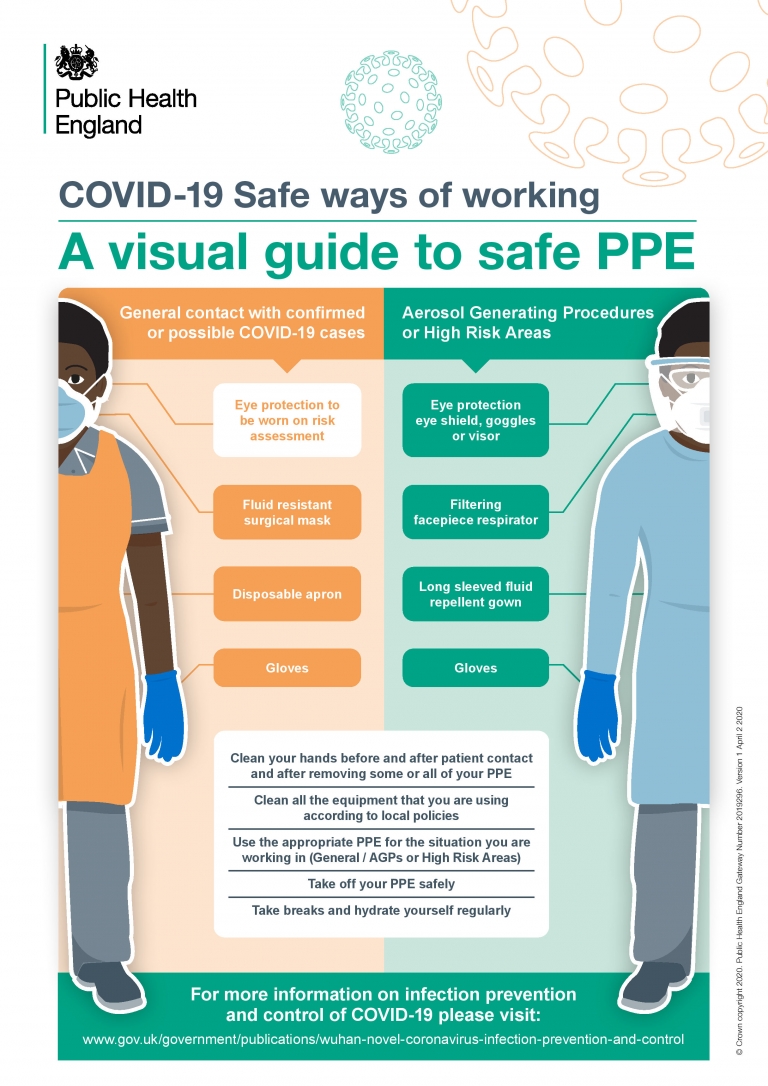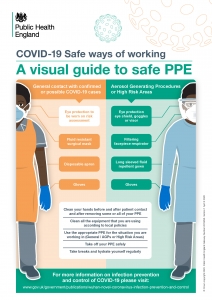 Further to this an InfoPic has been created as a visual guide for safe use of PPE. It is very rare for domiciliary care providers to be involved with aerosol generating or high risk procedures so the need for long sleeved gowns and respirators is not required for social care. 
To view this InfoPic in more details please click here
https://www.wayaheadcare.co.uk/wp-content/uploads/2020/04/COVID-19_easy_visual_guide_to_PPE_poster-1-optimised.jpg
1272
900
Richard Smith
https://www.wayaheadcare.co.uk/wp-content/uploads/2019/11/way-ahead-care-logo.png
Richard Smith
2020-04-07 13:14:28
2020-04-22 11:46:35
Updated Guidance on PPE